Skip Navigation
Website Accessibility
Class Schedule
Hello Fellow Stitchers
We had snow last night!!! Maybe that means its time to settle in and enjoy the peace that the silence of winter brings. We've been stitching up some new projects and planning new classes. Check below for a chance to learn a new skill.

---
This weekend is our 4th annual Cookie Tour, as before visit each store to collect cookie cutters with your purchases. One cookie cutter shape at each store. Nancy J's, Lowery's and Heaven on Earth. If you have been coming since the beginning, you have quite a few cookie cutters. We willl also have cookies to sample and recipes to go with them. Door prizes at each shop. Fun for all.
Friday and Saturday 9 - 5 Extended Saturday hours.
---
Our winners for the Birthday Bash were Linda Waymire and Sara Daily. Congratulations to both of them. They each won a $50 gift certificate.
---
Place mat Class
Wednesday Nov. 20th 1 - 3 p.m.
Free Pattern
Class Fee $5
Make these simple place mats in just a few easy steps.
Teacher: Chris
Min. 3 Max. 6 per class


---
English Paper Piecing
Sat. Nov. 30th
Beginning Paper Piecing
Learn this technique with our free sample kit.
Great project to travel with.
This group meets each month and explores new
blocks, shares, show tell and inspires.
10 a.m. Please register.


---
All Wrapped Up
This adorable package was given to me on my birthday. And I persuaded Marcia to teach her
project to you.
Nov. 23rd. 10 - Noon or 1 - 3
Class Fee $5
Min. 3 stitchers, Max. 6 per class
Must register for morning or afternoon class


---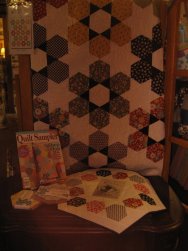 Hexi Garden Quilt or Table runner
Pattern by Atkinson Designs
The new square. This quilt is a 9 patch and "Sew" Easy
Learn this easy design and stitch up a beautiful grand-
mother garden. Place mat made with scraps using the hexi
Merry Go Round pattern.
Nov. 30 th. 10 - Noon OR 1 - 3
Class Fee $5
Must purchase pattern or already own it.
Min. 3 Max 6 stitchers per class


---
Holiday Hours
Nov. 27th Day Before Thanksgiving 9-3
Closed Thanksgiving Day
Closed Dec. 24th - 28th
End of Year Sale"A" Bration Monday Dec. 30th 9-5
New Years Eve. Dec. 31st. 9-3

---
Last but not least its
CHRISTMAS CASH
time again. Each time you shop in Nov. you earn $1 for each $10 spent. Then spend your Christmas Cash in December on yourself or use as gifts in December.

---
Happy Stitching
Cheryl

Heaven On Earth Hours
4767 N. St. 15 Mon - Fri 9 - 5 Sat 9 - 3
Wabash In 46992 closed Sundays
765-833-5461 www.heavenonearthofwabash.com