Skip Navigation
Website Accessibility
Boy, do I love power
Hello Fellow Stitchers,
Last week left many of us with challenges not expected. Tuesday morning I wondered if the rain would ever stop? How high would the water get? It got really high. Tuesday afternoon I wondered how much snow would we get and would it stick? It did. And then late Tuesday evening would we get our power back? Crazy. Thursday just shortly after being told it could be another 24 - 48 hours, power was restored.

I did fine while I was home, I am prepared for these such events, but trying to get things done in the shop was awful. I was starting to wonder how much I could stitch by turning the wheel on my machine and wishing I had a treadle machine that works.
---
We still have the Kansas Trouble trunk show at the shop. Stop in soon to see her great items.

Speaking of Lynne of Kansas trouble quilters, have you checked her blog lately? Lynne is giving away a big collection of fabric this week. Check out her blog at http://kansastroublesquilters-lynne.blogspot.com/ and comment on her blog to enroll. After you win and you need borders and backings you know where to come for our friendly help and large selection of Kansas trouble fabrics. You can also get the info on her new Block of the Month that we will start next year.

---
This Friday is a day you don't want to miss. Stop in Friday Dec. 9th. 10 - 2
Beckie Hanson will be here with us, Beckie is a demo represenitive for Clover. She will be here sharing a new way to do wool roving. If you have never done wool roving but would like to learn come check this out. Beckie will be sharing the new wool roving technique using wire.This adds depth and texture to her projects. She will also show the next generation of yo-yo's. No new tools for these. Just get out your old yo - yo makers and get busy crafting.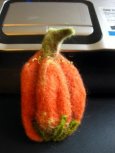 These are a couple ideas she will share with you.
---
Saturday Dec. 10th 9 a.m. is will be the 3rd of 6 Block of the Month. This will put us at the half way mark for this beautiful twin sized quilt. You can still join, it is $12 per month. 1 total yard of fabric is yours each month with two very detailed patterns. This is great, you pick your fabrics and I share finished blocks each month. We'll be done by April. A Door prize each month. Remember to bring your show and tell.
---
Did you know we moved the longarm back to the shop. I told you thing are changing and that is one thing that was changed as soon as we got home from Houston . Love having my machine in the shop.
---
Hope to see you soon. We have lots of things to share with you.
Happy Stitching and Have a Merry Christmas

Cheryl Ross Hours
Heaven On Earth Mon - Fri 9 - 5 Sat 9 - 3
4767 N. St. Rd. 15 Closed Sundays
Wabash IN 46992 www.heavenonearthofwabash.com
765-833-5461 join us on facebook